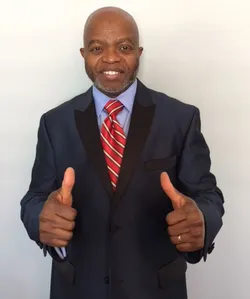 Dr Adediran Olopade Professional Profile
I have over 30 years' experience in the field of Dentistry. I Dr A. Olopade (aka Dr O) graduated from the University of Ibadan, School of Dentistry with a Bachelor of Dental Surgery (BDS) in 1990. I practiced dentistry in Nigeria 1990-1993, and in Jamaica, in the Caribbean from 1993-1999.
My wife and I decided to relocate to Canada in 1999. I gained admission into the University of the Western Ontario, Canada to do Advance Placement Program in Dentistry and I obtained Doctor of Dental Surgery (DDS) in 2003.


I have additional experience through continue education in the area of Oral Sedation, fully certified to offer Two-Drug Intra venous (I.V Sedation), Oral Implants, Current Advances in Root Canal, Cosmetic Dentistry etc.|


Currently practicing full time General Dentistry at Belmead Dental Clinic, located on the west end of Edmonton, Alberta with my formidable team of Dental Professionals vis-à-vis Office manager, Dental Hygienist, Dental Assistant, Denturist, Dental Technologist and Dental Sales Rep. With my verse experience, I'm interested in giving my patient affordable, gentle treatment options in general dentistry both for the young one and the elderly. Looking forward to seeing y'all!
My Clinic Belmead Dental Clinic had contributed immensely to many projects in the community in other to make a positive impact in the community.


Extra Curriculum activities include Family Bicycling, Golfing, Soccer, Table Tennis, Hiking, Long distance travel with the family and Food!